Spads are hand-picked individuals who advise ministers on how to stay in power, by making popular decisions 
JIM Allister was half right. He correctly identified the need for legislation, to regulate the behaviour of Stormont's special advisers (spads).
But he was wrong about his proposed new law. It needed just one sentence: "If ministers require advice on the political consequences of their policies and decisions, their party, and not the public, should pay for it." (He might have called it the Abolition of Spade Act.) But our beloved Stormont agreed a new Code of Conduct for Spads, those lubricants of the wheels of government who apparently keep this wonderful semi-colony at its efficient best. So why do we need spads? (Answer: we don't) What difference will the new Code of Conduct make? (Answer: none). How could Stormont work without them? (Answer: just as badly as now.)
Conversation

Sam McBride
@SJAMcBride
, Mary Lou McDonald suggests that what is recorded in Burned about the SF Finance Minister's behaviour was equivalent to the Irish Finance Minister taking advice from his special adviser. I think that's misleading. (1/3)

The central issue is that Máirtín Ó Muilleoir had a special adviser. But here he was asking unseen republicans who were neither his spad nor experts on the complexities of energy policy if they were "content" for him to take an urgent decision. Here are 3 pages from Burned: (2/3)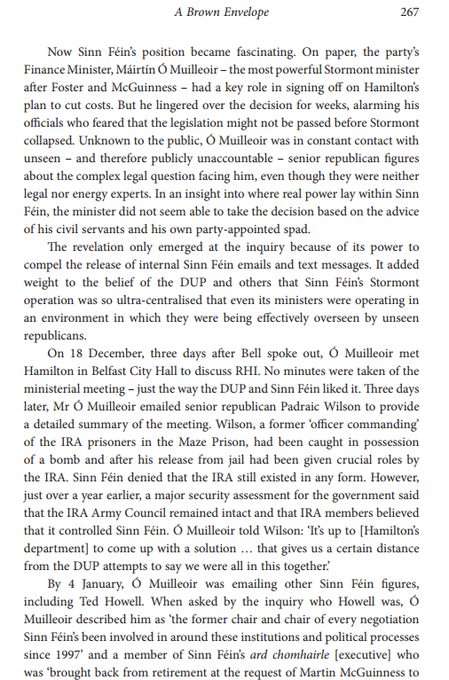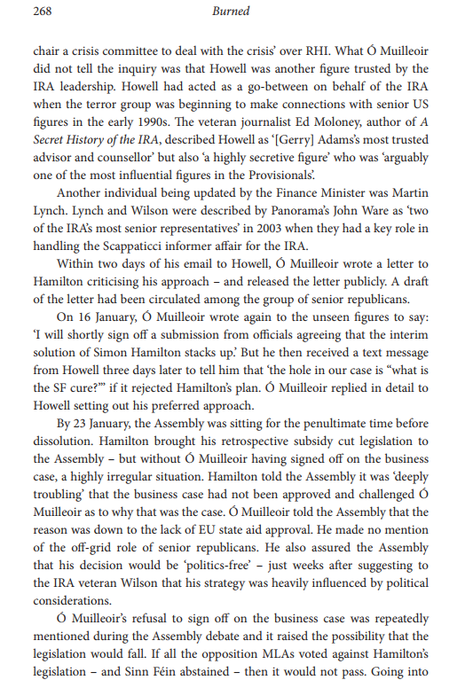 This episode was possible because of the ultra secrecy employed by the DUP & SF in Stormont – keeping things off-grid, using private email accounts & phones, & leaving these unseen figures wholly unaccountable because there was no official record of their role. What else went on?
CONTINUED 
Spads are hand-picked individuals who advice ministers on how to stay in power, by making popular decisions, or by disguising unpopular decisions as either not having happened or being someone's else's fault. They require no qualifications, which tends to render the debate on academic selection somewhat redundant. Politicians say spads have three functions. They act as a link between the minister and the party. In that case the party should pay. Secondly, spads are a link between ministers and civil servants. I have worked with enough ministers and senior civil servants to know that they can communicate perfectly well, without help from an intermediary. Thirdly, spads are ment to liaise with other spads. I have no idea why. (Maybe they have an addiction group called Spads Anonymous: "My name is Joe Bloggs and I am a spad. It all began when I started reading what I thought was harmless election literature, but before I knew it, I was hooked on party policy and look at me now – effectively in charge of a government department.)
Ah but, say the five main parties, this new code of conduct is different. It is indeed and it would be hard to find a more cynical public relations ploy, even by Stormont's standards. Spads' top salaries are to be reduced to a mere £85,000 (hurrah for equality) and they will be expected to keep minutes of meetings (how very considerate). More puzzling is that they "should avoid anything" which might suggest that "people paid from public funds are being used for party political purposes" – even though it also says they are expected to provide "politically committed". (That's the great thing about this code: it raises Stormont to new levels of inconsistency.)
And try understanding this: Spads can take part in "all forms of local political activity, but not local activities in support of national politics." No, I am not making it up and since all five parties claim there are two nations here, which nation's national politics do they mean? Oh, and what about regional or international politics? And how local is local: townland, parish, electoral ward, electoral district, travel to work area, county, local government area, Six Counties? (Maybe this code should have been looked at by a spad before being published?) As an alternative to spads, who cost £2 million annually, if any party requires advice on the likely electoral consequences of any executive decision, this column will gladly provide it free of charge. And if they do not wish to avail of that offer, all they to do is ask anyone in the street, because we can all easily predict the likely electoral impact of ministerial decisions in our sectarian society. So it is time for a Spadless Stormont. When it was announced on Tuesday that MLAs would get an extra £1,000 annually, no one from the five main parties would come out of Stormont for a BBC interview. The next day, they depicted themselves as victims of someone forcing them to take money (even though they took money for three years for not working). If they can manage those decisions without spads, they can manage every other decision in the same way.