Exposing the Big Game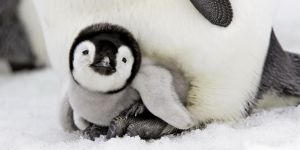 Only 2 baby penguins from a colony of 40,000 survived in Antarctica last year! And scientists say the whole ecosystem could collapse unless we protect it from massive fishing fleets and climate destruction. Countries are about to vote to create a HUGE sanctuary. European leaders want it, but to get them to drive it home we've got to show it is a massive public priority.Join now — let's get a million voices, opinion polls and media ads before the vote.

Dear friends,
18,000 beautiful baby penguins hatched in an Antarctic colony last winter. But just two survived!
The rest starved — and industrial-scale fishing and climate change threaten to wipe out countless other polar species. Scientists say the only way to save Antarctica's ocean is by urgently protecting it — and if just two more governments give their backing, we can create a massive network of ocean sanctuaries there.
View original post 405 more words